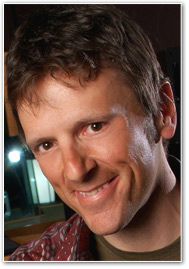 Featuring: Butterfly Boucher, New Radicals, Chicago, L7, Reverend Horton Heat, GPS, Robben Ford, The Geraldine Fibbers, Candace Devine, A.J. Croce, Karisa Winett, Blend, Kenny Brack and Rob Laufer


Featuring: Far, Donny Anderson & Maia Sharp, Overbreaker, Madonna Nash, Danielle LoPresti & The Masses (Hard Rock, Old-School Blue-Eyed Soul, C&W, etc.)
images/biotab.gif
Michael James
The New York-born producer/engineer/mixer/A&R rep for artists like New Radicals, Hole, L7, Rev. Horton Heat, Jawbreaker, Jane's Addiction, Robben Ford, A.J. Croce, Artificial Joy Club, Maia Sharp, Chicago and more actually grew up on the streets with a motorcycle gang as his guardians - all while an honor student!
A decade later, as a key player in the seminal Radio Tokyo album series, Michael James was present at the inception of Los Angeles' alternative scene.
"I work with artists whose music inspires me in some way," says James, an axiom that applies to all of his work to date. "There is always something genuinely unique about an artist and that's what I have a talent for highlighting. There's not a 'Michael James sound'; every artist is a new beginning that requires a new treatment. I go with my gut instincts each time."
Michael James was born in New York and spent his first 13 years on Long Island. His father, Roy March, was in a doo-wop group called The Chaperones, for whom he wrote the classic hit "Cruise To The Moon," and as a Capitol Records producer and songwriter, penned tunes recorded by José Feliciano and Kris Kristofferson.
Having parents only 16 and 20 years older than himself, Michael grew up in what might be thought of as an alternative lifestyle. It was, however, the only lifestyle he knew at the time: From ages eight to eleven, he and his mother lived with a motorcycle gang, ironically living hand-to-mouth in the affluent Hamptons.
By age 14, Michael had relocated to Los Angeles. Shortly before attending UCLA on a scholarship, where he studied Third World Development, Michael's passion for jazz led him to take up playing guitar. He submerged himself deeply not only in his academic studies but in those of the guitar and both jazz and classical music theory.
At 19, Michael James met former Blue Cheer member Ethan James (no relation), the owner and creative nucleus of Radio Tokyo Studio. Michael recorded a single, which cost him $15 in studio time. Ethan took the disc to KROQ-FM DJ Rodney Bingenheimer, who debuted it on his legendary show, Rodney On The ROQ. It was later added to the station's playlist. From there, Michael joined the band Waves Of Grain, whose "Catch Me I'm Falling" placed Top Ten on several college radio playlists, and was later licensed in the UK, France and Germany.
An unsigned band from New York called Too Much Joy came to L.A. and hooked up with Radio Tokyo. Michael was given the chance to produce a few tracks for the band. When TMJ was signed by Alias Records, they asked Michael to produce the album Son of Sam I Am. Rolling Stone gave the resultant disc four stars. Michael went on to produce their debut album, the first release from Irving Azoff's venture with Warner Bros., Giant Records.
Remaining at Radio Tokyo as a staff producer and engineer, Michael soon encountered a band called L7, who asked him to produce their debut album, Smell The Magic for Sub Pop. Sub Pop liked it enough to ask him to produce several other artists on the label, including Rev. Horton Heat, who offered to perform at James' wedding.
And then there was Courtney Love and her band, Hole, whose debut record on Sub Pop he produced. Michael was taken with Courtney's sense of style, as well as her sense of where she was destined. "My goal was to keep the intensity while highlighting the pop element; I just had them be who they were, and I helped them sound better," he says. Michael went on to work with Jane's Addiction, Mazzy Star and the critically acclaimed Geraldine Fibbers.
Eventually, WEA founder Jac Holzman tapped him to be Head of A&R and Staff Producer at his Warner/Discovery label. Michael made it a point to listen to the boxes of unsolicited tapes. When he heard the demo from the Canadian rock band Sal's Birdland, he booked a flight to Toronto. It was mid-February, and Michael — a Southern Californian for two decades - forgot about the weather in the rest of the North America. Attempting to fly into Ottawa at a time the capital city experienced its worst fog to date, he knew the flight would be delayed. So he flew to Montreal and, despite never having been to Canada, decided to hitchhike to Ottawa. Undaunted by blizzard conditions en route, he thumbed a ride and missed the band's scheduled gig. The band thought his enthusiasm was unprecedented, so they booked another gig at a biker bar, after which Michael offered them a recording contract.
Sal's Birdland soon signed to Discovery and went on to receive four stars in Q magazine for their debut album, which Michael co-produced and mixed. Changing their name to Artificial Joy Club, Michael brought them to Interscope for their second album. The band's first track wasted no time in ascending to the Top 20 of the alternative airplay charts.
MJ wasted no time finding his next hit, New Radicals. Working under the radar and without a record deal, he and singer Gregg Alexander slipped into the studio during downtime to work on the album. Not only did Michael mix, but he also played the soaring guitar solo on "Crying Like A Church On Monday." When Michael shopped the resulting album for a record deal, every major record company rejected it, claiming that "the stigma against male singer/songwriters" was insurmountable. Ultimately, however, MCA Records saw the light and sold millions of copies.
Encouraged by Alexander to play and write more, Michael started taking on more work as a session musician. He wrote several songs with A.J. Croce for Transit, including the hits Maybe and What I Wouldn't Do, and played lead guitar on the album, which was recorded mostly live in the studio. "There's no substitute for having a tight band perform live," he says, "because that's how you get the best vibe; that's how you capture a great moment."
Today Michael is in constant demand as a mixer precisely because of his multi-faceted skill set. As a writer-mixer, he knows when to make the technology get out of the way of the song and the artistry. As a musician, he can completely rearrange a song when an artist wants to dig deeper—even at the mix stage. He is frequently hired to do just that, often performing new guitar, bass and keyboard parts at the artists' request, breathing new life into the song and the mix. This deep skill set and a broad musical palette make him equally comfortable whether mixing super-hip Butterfly Boucher or classic rock icons Asia and their spin-off prog band GPS. "In any given week," says Michael, "I might be working on heavy detuned indie rock one day, elegant singer-songwriter tunes the next, a Disney track on Wednesday, and then finish up the week with a platinum artist trying to stay relevant or make a comeback. I love the variety. Being comfortable and credible in so many styles of music gives me a broad perspective and a huge bag of tricks."
While Michael has been "indie-friendly" since the beginning, his new company IndieProMix has taken that attitude to a new level. For the first time, independent recording artists have direct access to some of the top producer/mixers in the business, bypassing the gate keepers and avoiding major label fees. Michael is excited about the possibilities because he started his own career as an indie and because indie music is usually where he finds the most creative vitality.
images/discotab_black.gif
Artist

Album or "Track"

Credit

New Radicals

Maybe You've Been Brainwashed

M-E-G

Edwin McCain

Mercy Bound

M

The Coronas

"Dreaming Again" radio remix

M

The Coronas

Upcoming LP Release (CD & Vinyl)

M

Maia Sharp

Change The Ending

M

Valentino Is Dead

Mis-Adventures In Punk Rock

M

Danielle LoPresti & Masses

Run With It

M-W-G-K

Saucy Monky

Trophy Girl, Part 1

M

Far

At Night We Live

M

Far

"Deafening"

M

Far

"If You Cared Enough"

M

Far

"When I Could See"

M

Far

"At Night We Live (7" remix)"

M

Overbreaker

Follow The Rabbit Down The Hole

M-W

Butterfly Boucher

"Another White Dash"-Remix

M-K

Butterfly Boucher

"Soulback"-Remix

M-G

A.J. Croce

Transit

P-E-M-W-G

Robben Ford

Blue Moon

M-Remix

Robben Ford

"Don't Deny Your Love: Remix"

M

Robben Ford

"Indianola"

M

Maia Sharp

Maia Sharp

M

Maia Sharp

"Willing To Burn" -Single

M-Remix

Too Much Joy

Son Of Sam I Am

P-E-G-K

Too Much Joy

That's A Lie and Other Joy

P-E-M-K

Too Much Joy

Besides

P-E-M

Reverend Horton Heat

"Speed Demon" etc.

P-E-M

Hole

"Dicknail"-Single

P-E

Hole

"Burnblack"-Single

P-E

Hole

My Body The Hand Grenade

P-E

GPS

Window To The Soul

M

Geraldine Fibbers

Live From Bottom Of The Hill

M

Chicago

Live From the Aerie Crown Theater

R for DVD

Chicago

CD USA: America's Party 12/31/2006

Surround M

Jane's Addiction

The Gift (Movie)

E (Studio Track)

L7

Smell The Magic

P-E-M

L7

"American Society"

P-E-M

Jawbreaker

"Busy"-Single

P-E-M

Jawbreaker

Whack & Blite EP

P-E-M

Jawbreaker

Unfun

P-E-M

Jawbreaker

Etc.

E

Artificial Joy Club

"Skywriting"-Single

Remix Producer-G

Artificial Joy Club

"Spaceman"-Single

Remix Producer-G

Mike Finnegan, et al

Organ-ized: An All-Star Tribute…

M

Robert Hicks & Pete Rugolo

Textures In Hi-Fi

P-M-A&R-G

Robert Hicks

New Standards

E-M

Rob Laufer

Wonderwood

P-M-A&R-G

Sal's Birdland

Nude Photos Inside

P-M-A&R

The Crash Poets

Big Bang Theory

P-E-M-G

Danielle LoPresti & Masses

Outloud

M-W

Danielle LoPresti & Masses

22 Mountains

M

Danielle LoPresti

Dear Mr. Penis Head

M-Exec P-W-G

South of Houston (SoHo)

Live & Learn

P-M-W-G

Roy Ashen

Sugar and Gasoline

P-E-M-W-K

Brian Charles

Sadder Day Dreaming

P-E

Sylvia Juncosa

Nature

E-G

The Maxfield Rabbit

Evermore

P-W-G

Lisa Wong

"Doin' My Thing"

E-G

The Mystery Band

Insert Title Here

E

Pitchfork

Eucalyptus / Saturn Outhouse

P-E

Pitchfork

Saturn Outhouse EP

P-E

Screaming Sirens

Voodoo

E

The Painkillers

"Intoxication Of Life"

W

Zoo Story

"Hey God"

M

Sean Hall

Thirst

M-E-G

The Invisible Man

The Invisible Man

P-E-M-G

Trash Can School

Sick Jokes and Wet Dreams

P-E-M-K

Blend

Blend

M

Julia Albert

More Real Than This

P-M-E-G-K-W

Sean Hall

Oxygen

P-M-E-G-K

Karisa Winett

Pound 4 Pound

P-M-E-G-K-W

Brett Mikels

Deep Enough

P-M

Various Artists

The Big One: S.F. & L.A.

P-E-M

Jabberwock

Southland

P-M

Jabberwock

Letterbomb

P-M-G

Veneer

On That Note

M

Wishnefsky

Sin Tax

M-G

Phunk Junkeez

"What's The Time" remix

M

P=Produce. E=Engineer. M=Mix. R=Remix. W=Writer. A&R=A&R. G=Guitar. K=Keyboards
images/testtab_black.gif

"Michael James consistently finds the hits before they happen. He brings the best out of artists and puts 200% into his mixes."
Ruta E. Sepetys / Artist Manager (Lit, Steve Vai, ...)
"When I receive a project that Michael has produced or mixed, I know that I will need to do very little if anything to make the recording sound superb. His mixing skills and the musical approach that he takes along with understanding the intention of the artist help him create mixes that achieve sonic excellence!"
Dave Donnelly, President, DNA Mastering
"I don't have to do much to Michael James' mixes in mastering. It's very difficult to get the vocal to sit right in a big track without losing the power of the music or the snare, and he always gets it right. Also, the frequency spectrum balance is excellent."
Bernie Grundman, Owner, Bernie Grundman Mastering
"If you are not inclined to utilize Michael James' prodigious mixing
talents on your next project, then please proceed directly to the nearest
health care facility and ask to have your head examined. Michael has
mixed several indie records for me and therefore I can attest that he
mixes with skill, passion, energy, musicality, and particular attention to
detail. Importantly, he listens not only to the music, but to the artist
and his/her vision. Plus, he is a super nice guy and easy to work with:
no attitude or ego driven nonsense. In my experience, he has never failed
to hit a mix out of the park. Michael gets it and you should get him."
Wishnefsky / Recording Artist & Founder, Lost Dog Records
"I don't know how he does it, but Michael James always knows how to get all the elements audible in the mix, and in a very musical way. He sorts out any sonic gridlock, and always thinks from the song's point of view. He's super easy to work with, communicative, fast, and has great web service!"
Dan Rothchild, Producer (Better Than Ezra) and Session Bassist (Beck, Sheryl Crow, Dixie Chicks)
"Michael James is one of a kind. After pouring sacrifice, work, discipline, and thousands of hard-earned dollars into making the best Indie record I can within my means, I wouldn't consider handing over my baby to anyone else. MJ has mixed all of my CDs and, with any luck, will continue to. Along with his obvious mixing skill and musical artistry, he has two other things that set him apart from so many others - first, he actually LISTENS to his artists, second, he truly CARES about making that artist's Indie CD sound every bit as great as any the Majors spend ten times as much on."
Danielle LoPresti / Danielle LoPresti and The Masses, Creator/Producer, San Diego IndieFest
"Michael James is a great mixer. Need I say more?"
Keith Holzman, Solutions Unlimited & Veteran Major Label Executive
"We knew Michael James when he was a young, vegetarian, Baha'i, born-again virgin, whose recording, production, and mixing skills couldn't be matched by twenty more experienced and debauched old-school Hollywood bazillionaires working together. He's still pretty clean-living, so far as we know, but his skills have, impossibly, gotten even better. Trust us: our band sucks, and he makes us sound like the fucking Who. "
Tim Quirk, front guy for Too Much Joy and Wonderlick
"If I'm going for spacious and organic, dense and sizzly or anything in between, I call Michael James. He gets the ear candy sounds I need when an element is totally exposed and he finds just the right place for everything even when I'm chock full o'tracks. In a big production I can just think about the instrument I want to hear, and I hear it thanks to MJ's placement and TLC. As if that's not enough, even in the challenging and increasingly frustrating environment of the music business, Michael works with enthusiasm, humor and a total team spirit, constantly showing his genuine love of music. No joke, this guy is really good."
Maia Sharp, songwriter/artist/producer (Dixie Chicks, Bonnie Raitt, Art Garfunkel, Edwin McCain, Trisha Yearwood)
"The most special part about Michael James, is his relentless attention to detail. Singlehandedly the most talented mixer I have ever met, MJ is my number one choice for my most important projects. With an impeccable pair of ears, MJ is also a remarkable multi-instrumentalist and songwriter whose sensitivity to the craft only expands his outstanding mixes."
Alicia Champion, Executive Producer, San Diego IndieFest, Owner, Durga Sound Studio
"Michael James loves what he does and that shows in his excellent work. His ears are amazing and he uses them to create the sound and vibe I'm looking for. We have worked together for years on numerous projects and I am sure we will work together on many more. Even though I am an indie artist, Michael James gives me and my tunes the major star treatment."
Julia Albert, Recording Artist
"Michael always goes above and beyond the call of duty to help me achieve my artistic vision. He's a fantastic mixer, producer and musician and he knows how to get the very best out of any recording – even for artists on an "indie" budget. Michael and IndieProMix.com are Highly recommended!" -
Roy Ashen, Recording Artist
"MJ is the man. He hears before he speaks and always lays it down right on time. He's ideal for any artist, at any level, looking to improve their project."
Estes Shane Whalen, Singer/Songwriter
"For someone like myself, not being a well established recording artist, I am convinced no one would put as much work in as MJ. For him it's not ultimately about money, his pride is at stake. Every time. Coming from the sports world where determination, attention to detail and a never-give-up attitude are key, it wasn't until I came across MJ that I found common ground in the music business".
Kenny Brack, Recording Artist & Race Car Driver (Winner Indianapolis 500)
"The mixes sounded like a record, 'nuff said! "
Kenneth H. Williams, Widnik Productions, FOH Mixer (D'Angelo, Roots, Jada Pinkett-Smith)
"Michael James is an exceptional mixer. He has an uncanny knack for
accurately interpreting my aim for the sound and vibe of a song and quickly
translating it into a powerful and cohesive mix. I cannot recommend him
highly enough."
David Weiss, songwriter, guitarist, SlackJaw Blues, Travis Whitelaw